Dean's resume
Dean Schomburg is a Summa Cum Laude graduate of Fordham University where he earned his Bachelor's degree with a major in African & African-American Studies. Dean completed his senior year at Rutgers New Brunswick where he earned an Academic Excellence Award for placing in the top 10-percent of his class. Dean went on to complete his Master's degree in Communication and Information Services at Rutgers University with a concentration in Media Criticism.

Brooklyn-born Dean has had a successful career in broadcasting, where he was a radio news anchor for the ABC Radio Network headquartered in New York City and a Newscaster/Writer for the Wall Street Journal Radio Network. He also completed stints at New York City classical radio stations WQXR and WNCN as an announcer.
Dean Schomburg is a grandson of the noted bibliophile Arturo Alfonso Schomburg, whose private collection of art and artifacts relating to the contributions people of color have made to the body of world knowledge formed the basis of the Schomburg Center for Research in Black Culture. Dean is following in his grandfather's footsteps, and is currently completing a Master's degree in communication from Rutgers University, where he is a member of the Council of Black Graduates. He also chairs the Government Advocacy Committee of the Schomburg Corporation, a non-profit organization whose mission is to assist the Schomburg Center.

Dean has spent his entire career as a radio news anchor, the last 14 years of which were with the Wall Street Journal Radio Networks. He also hosted a network television program,"Black Perspective on the News" which originated at WHYY TV in Philadelphia and was carried by the Eastern Educational Network.
In his spare time, Dean enjoys traveling to various points of the globe in pursuit of his love for jazz music and in his (rare) spare time he attends jazz concerts ranging from Havana to Dubai, and embarks on a yearly jazz cruise to the Caribbean, where he can mix with the musicians and take part in the "passenger jams" with his flute and alto saxophone.

Dean Schomburg discussed the life and legacy of his grandfather Arturo Alfonso Schomburg whose vast collection of blackhistorical items was the basis for the creation of th e New York Pub lic Library center which bears his name. Essex County College, Newark, N.J. February 18, 2010


Harry Belafonte at the Schomburg Center 2005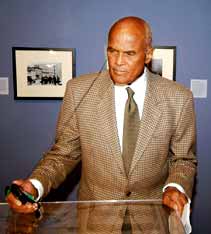 In Motion: The African-American Migration Experience at the
Schomburg Center
www.nypl.org/locations/
schomburg
By Dorothy Davis
A glittering array of celebrities appeared at the New York Public Library's Schomburg Center for Research in Black Culture, in Harlem, to celebrate the brilliant new online resource "In Motion: The African-American Migration Experience." The exhibit tells the in-depth story of over five hundred years of African-Americans on the move. It tells about the thirteen separate African-American migrations, from the 1500s until today. Only two of them (The Transatlantic Slave Trade and The Domestic Slave Trade) were involuntary. Others included Haitian Immigration--18th and 19th Centuries, Western Migration, The Great Migration, Caribbean Immigration, and African Immigration.
What did Harry Belafonte, the famous actor, singer, producer and human rights advocate, have to say about "In Motion?"
"It gives us a chance to speak with some authenticity and authority about what our journey has been. Young students, young minds that are eager to know more about who and what we are as a nation and certainly as Africans will be rewarded amply by what they will experience on this website."
What special message for teachers came from Dean W. Schomburg, a distinguished radio commentator and grandson of the Puerto Rican born Black Scholar, bibliophile and NYPL benefactor, Arturo Alfonso Schomburg, for whom the Center was named?
"Teaching is so important and so under appreciated. I would like to urge teachers to visit our new website, "In Motion". It's set up for them with lesson plans right on there. How much easier could it be? With kids you never know what will possess them. If you expose them to this website some of them may be inspired by it. Just let them know it's here. Even if only one person in your class gets taken by it I'd be happy with that. That would be a wonderful thing!"
What did Paul LeClerc, President of The New York Public Library, have to say about the website?
"[It is] the single most extraordinary online version of a library that I think is possible, the best that is available in the world today."
What did Congressman Charles Rangel have to say?
"I have shared [this] with members of the Congressional Black Caucus and I can't begin to tell you how excited they are about this great project. The African-American is just one of the few people in this great country that if they were to give us a million dollars to go to our homeland we have no clue as to where to go. We don't know what we would do without the Schomburg in shedding some light on who we are as a people. Where did we come from? Where did we anchor our culture and beliefs, including religious beliefs? What were our hopes and aspirations? It makes us all better persons to know who we are."
What special message for teachers did Howard Dodson, Director of The Schomburg Center, have about the website?
"The African-American experience is a central part of America's experience. Let's hope that this resource will assist teachers in incorporating some of the missing pages of American history into their classroom experiences."
And what did 6th Grader Sam Howard, who attended the preview with his mother, Mamie Bittner, a Director at the Institute of Museum and Library Services, have to say about the website after he'd seen the preview? "That was really good!